Ingredients:
Green tea leaves 1 1/2 teaspoon
Sugar of your taste (diabetic patients can use alternative to sugar)
Some fresh small mints
4 cardamom
boiled water 4 cups
1 lemon (few drops per cup)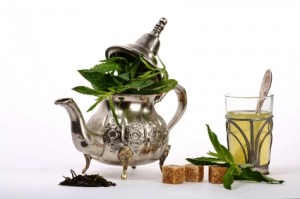 Green Tea With Mint
Method:
First take 5 cups of water in a vessel and put it on stove and boil it.
Put two whole or crushed cardamom in it and boil it for 3 minutes more.
Now put sugar in it and boil again for 5 minutes more.
Then put green tea leaves in it and turn off the heat.
After turning off the heat cover vessel with lid.
After 5 minutes put the green tea in a tea pot and cover it after putting mint leaves in it.
Pour it to tea cups after 2 minutes and some drops of lemon in it for a taste and enjoy it.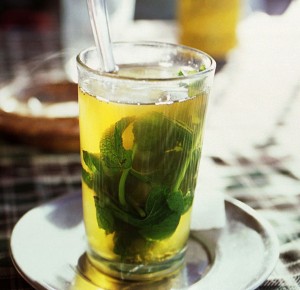 Glass of Green Tea With Mint