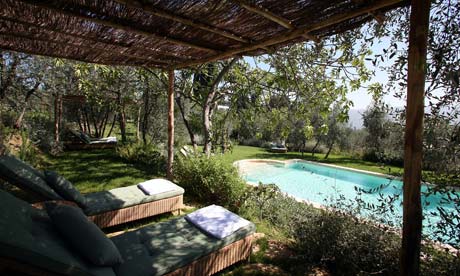 Villa Bordoni Hotel & Restaurant in Tuscany, Italy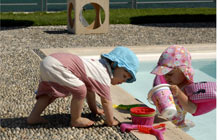 Ammos Hotel
Ammos Hotel, Crete, Greece
On an island dominated by impersonal chain hotels and wallet-searing five-star palaces, the Ammos Hotel is a real find. Revamped a couple of years ago, it has colourful suites and studios that are superb for families, with small kitchens and surprisingly smart bathrooms. The hotel fronts on to a sandy bay with shallow water safe for even the tiniest paddlers, and the bright lights of Chania are just 15 minutes away, with enough life to keep most teenagers happy. But what really sets the Ammos apart is the service: Nikos and his team are happy to do just about anything from warming bottles to arranging helicopter trips. The garden-view suites are the ones to go for, as they sleep four comfortably.
Villa Bordoni, Tuscany, Italy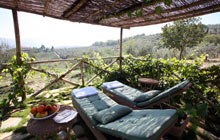 Villa Bordoni
In the heart of Chianti country, Villa Bordoni is an elegant 16th-century villa with its own cooking school, gorgeous grounds and outdoor pool – and a warm welcome for kids. Babysitting costs from €15 an hour, highchairs and cots are on hand, and changing mats and other equipment can be provided. Older kids can head off on the mountain bikes, and there's a TV and DVD player in every room. The restaurant is at the heart of the house, rustling up picnics or tasting menus at lunch and locally sourced meats and cheeses with – of course – bottles of Chianti at night.
Villa Annette, Rabac, Croatia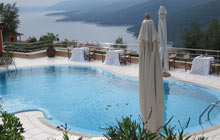 Villa Annette
One of Croatia's chicest hotels, Villa Annette is also ideal for families, with spacious suites with small kitchens, and a children's menu in the stylish restaurant. The hotel is situated above Rabac bay, with stunning views, and the picturesque village of Rabac is just a mile away. Rooms are sleekly decked out in bright reds and neutrals – with no priceless objets d'art for sticky fingers to knock over, and child-safe railings along all the open spaces.
Select Maris, Datca, Turkey
Think Mark Warner holidays aren't your bag? You may reconsider after checking out the family specialist's latest offering, the Select Maris, on the Datca peninsula, west of Marmaris. While offering facilities and activities for kids, this looks like the sort of place you'd expect to see supermodels, rather than toddlers – wooden decking with posh raffia sun umbrellas, a lagoon-style pool, and private beaches. Kids' clubs run in July and August for those who fancy playing pool gladiators or learning circus skills, and there's lots to do together, from tennis, boat trips and kayaking to sailing and windsurfing.
Thyme House, Corfu, Greece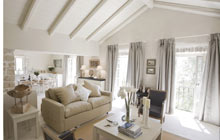 greece hotel
Thyme House looks as though it's straight out of an interiors magazine, but in spite of the wall-to-wall cream decor and red chaise longues, it's a very family-friendly self-catering property, with leather beanbags for sprawling, a huge pool, satellite TV, DVD, CD player and Wi-Fi. The house is part of the Rou Estate, an architect-designed restoration of a traditional Corfiot hamlet, with 10 converted cottages. Thyme House is the most private, but it can be booked with Trifylli next door – ideal for two families holidaying together. The villa is managed by CV Travel, which offers family-friendly add-ons, such as a chef or babysitter, at many of its properties and will even arrange children's parties.
Château de la Couronne, Dordogne, France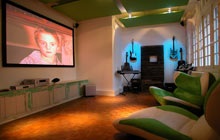 france hotel
A 16th-century chateau kitted out in retro 60s prints and owned by an ex-Topshop fashion buyer might not sound a great family option, but Château de la Couronne welcomes children. There are five acres of grounds with a large pool, and tortured teens can work out their muso fantasies on the guitars, drums and keyboards, or flake out in front of a movie in the cinema space. There's no restaurant, but a huge buffet breakfast is served every morning, and each of the five suites has a fridge and kettle. The nearest village, Marthon, has a restaurant, bakery and butcher, with more a few miles away in Angoulême. There are board games and kids' DVDs, and the billiard table comes with child-sized cues.