Ingredient:
Urad (black) dal 200 grams
Red beans 300 grams
Onions 250 grams
Ginger (Adrak) 50 grams
Tomatoes 100 grams
Green chilies 50 grams
Butter/Ghee 100 grams
Garlic (Lehsan) 5 clove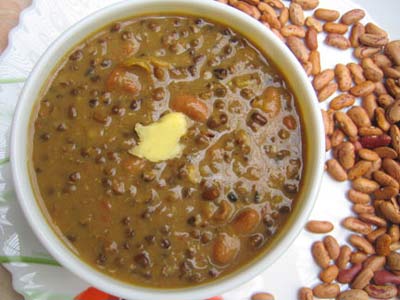 Dal-Makhani
Procedure:
First Soak dal and red beans over night in a deep bowl and boil it by adding water and salt in it. Boil for a time until the dal is soft. Now chop the onions, Ginger (Adrak), green chilies and tomatoes. After doing this fry all these together in butter/ ghee for a time until turns brown. When done add the boiled dal and red beans in it and allow simmering for 5 to 7 minutes approximately. Serve it with naan'.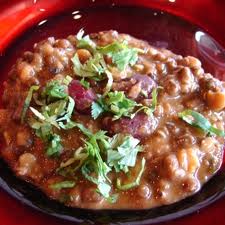 Dal Makhani
Written By : Usman Awan